I most highly recommend going to Dr. Mark. Dr. Mark and his team are excellent in restoring and maintaining one's health. About 4 years ago I woke up and was barely able to get out of bed. I had a severe sciatica episode. Extreme pain from lower back down to my toes. Up to that time, I had been fairly active, regularly exercising and playing golf a couple of times a week. I was convinced that I would no longer be able to return to these activities or even walk around the block. Dr. Mark combined his experienced chiropractic skill along with decompression, EMS, massage and ultrasound therapy. After several weeks of treatment I was back to normal. Although I was reluctant to take on my old activities, Dr. Mark encouraged me to start a walking regimen along with other exercise. Since then I see Dr. Mark on a regular basis, have lost 20-25 pounds, my stress level has been significantly reduced, am in better overall physical shape than when I was much younger, and I look forward to physical activities. Also, when you come to Dr. Mark's office you are treated not just as a patient with an immediate physical problem, but you are greeted by a staff interested in your overall well being.

Sincerely,
Marshall
---
Dear Dr. Mark, Hope all is well, here is my testimony:
I was in a rear in collision September 25th, 2013 and at the time I had no faith to ever recovering. Most people typically just go to a chiropractor as a treatment to get better and walk out leaving without a different mindset but instead as just another medical treatment. For me it was different, I remember taking health class in college and hearing negative things about chiropractic work. I had the opportunity to be treated by Dr. Mark's team. I went in beaten up pretty bad, problems with my neck and spine, a depressed college student tired of feeling like a vegetable, and with the fear of being in a car to in a time period of about 4-5 months I become a better, positive person. To this day my neck and shoulders feel great I no longer have as much pain as before and I am to complete tasks without feeling any pain. I always looked forward to coming, I felt welcomed as if slowly but surely the light at the end of the tunnel came closer and closer. I became depressed thinking I would not accomplish my goal of becoming a police officer, but thanks to Dr. Mark's team I learned that anything is possible with a positive mindset and faith in God. Dr. Mark's team became my second family, thanks to their endless support and faith I was able to overcome this tragedy. Whoever says that chiropractic practice does not work obviously has not given the opportunity to try something new for a better tomorrow. Your body will thank you! =)
Sincerely,
Melisa Mondragon
---
Dear Dr. Mark, Thank you for everything you have done to help me get back into wrestling. Before I went to your office and getting my neck work on, I could barely move it and physical therapy didn't help at all. After my first visit at your office I could move my neck a lot farther than I could after physical therapy. I know that you receive a lot of thanks but I wanted you to know that I am truly grateful. You got me back to100% in 5 visits and as a result I am able to wrestle my senior year without pain. Thank you, I am so happy that I could return to sports.
Garrett Castner

---
Hello, my name is Daniel Driussi and I was a patient with Dr. Mark and I can recommend this clinic to everyone I meet.
The staff was always friendly, knowledgeable and always made me feel welcome. The procedures they did for the chronic pain in my back helped very much! As a veteran I was able to use the VA to receive some treatment from Dr. Mark, and I will go back to Dr. Mark's office in a heartbeat as soon as the VA approves more visits to him!
To Dr. Mark and his staff my back and I thank you all deeply and hope to see you all soon in the future.
Daniel Driussi

---
I came to Dr. Mark as a referral from my lawyer after getting into a car accident. I was driving and ended up hurting my left shoulder. I was a little hesitant to go to a chiropractor since I have not been to one before. As soon as I walked into Dr. Mark's office, all my worries erased away. Pam, the receptionist, made the office warm and friendly. She took the time to take care of my 4-year old during my appointment. Natalie, the physical therapist, was easy to talk to, listened to me and took great care helping me "fix" my shoulder. Dr. Mark eased my fears about the "chiropractor" and talked through every step he took to fix my shoulder. Overall, the office and staff was extremely friendly and wonderful. I would recommend any of my friends who need to see a chiropractor to go to Dr. Mark's office.
Dr. Mark... you, Pam and Natalie made each of my visits feel like I was part of the family. Thank you soo much for taking care of me and "fixing" my shoulder.
To Dr. Mark and his staff my back and I thank you all deeply and hope to see you all soon in the future.
Kathryn Sickler

---
A couple of months ago I was hit in my car by a drunk driver doing 70 miles per hour. I sustained numerous injuries including a sprained left ankle, sprained left wrist, sciatic nerve pain and a severely bruised sternum. I could hardly get out of get and had to hold onto the wall to walk down the hallway of my mobile home. After two months of chiropractic care from Dr.Mark and his wonderful staff, Natalie and Pam, I am now completly recovered. Thank you Dr.Mark and your "magic hands" for healing me!
Stephen McMahon
---
On June 6, 2012 I was involved in a car accident where I was hit from behind while driving on the freeway, suffering a total loss of my vehicle. From that day on my life was turned upside down! I was referred to Dr. Mark's office to get treated for severe whip lash. I have never felt pain in all of my body like that before. Thanks to Dr. Mark & his staff, I knew I was in good hands from day one. Each one of them took their time with me and cared for me as my body would allow them too. After 4-5 months of treatment I can truly say I feel better and healed. Without Dr. Mark and his awesome staff, I'm not sure where I would be today. Dr. Mark you are truly a blessing and I thank you for being so kind and patient with me. I thank your staff for being so knowledgeable, kind and caring! You guys are truly the best and I would recommend you to every and anyone!
Danielle Medina
---
"I've been both a patient and close friend to Dr. Mark for over 25 years now so I feel I have a really good understanding of "why" you should choose him as your Chiropractor.
1). Passion- He really loves what he does and he has a great "bedside manner" that makes you feel comfortable and confident in his abilities
2). Education- He didn't stop after college, he constantly strives to stay on top of the latest research and technology as it relates to his filed and beyond
3). Caring- I've been to many different "professionals" and many of them don't deserve that moniker. Dr. Mark really truly cares, on a personal level, about the patients that have been placed in his care
4). Affordable- Not having money isn't a good enough reason to not get the treatment you need to feel and function healthier, I've seen him make his care possible for nearly anyone who walks in his doors
5). Community- Dr. Mark is a solid part of our community. He is actively involved in so many ways to ensure he is giving back
In addition to myself being treated by Dr. Mark my teenage son, a high school football player, has gotten "back in the game" as a result of Dr. Mark's diagnosis and treatment of his pain.
My wife, who if dreadfully fearful of being "cracked" has now become a regular in Dr. Mark's office.
I make my living from my body, and you do in some capacity as well, so it is VITAL that we can operate at 100% (or close) in order to care for our families and conduct life as usual.
Do yourself a favor, give Dr. Mark a chance to make you feel better, I promise you will be happy you did.
Clark Bartram
America's Most Trusted Fitness Professional
---
I was referred to Dr. Mark by a friend after recent back trauma. I never thought that I could be in so much pain when I first visited his office, and at 34 I learned that: #1 I can't skateboard as well as I used to, #2 chiropractic treatment really works. After my little spill I laid in bed unable to move for the first couple of days, and after a few treatments I was able to walk again. Each time I visited I felt better right after. The staff could not have been friendlier and I would highly recommend visiting his office. Thanks for getting me back on my feet again!
Ryan
---
Dr. Mark,
First off, thank you and your staff for helping me to get better and feel like part of the family. I had a lot of thought and worry running through my mind, after being involved in that multiple rollover accident. I was not sure I would be able to get better and get my life back in line.
In fact, I am so glad that my faith in God led me to your office. The treatment I received was above my expectations and I really appreciated the conversations on a personal level with you, Natalie, Pam, and Brittany. I am aware that most chiropractic services deal with people on just the physical aspect of care. But, talking and actually being in tune with me about daily life and future agendas helped me on a far greater scale. I learned to cope with the traumatic experience and the future ahead of me. I took it day by day and was ecstatic about showing up on my days of treatment knowing that I was in good hands.
You guys are wonderful in all that you guys do to get people feeling better and back on their feet. Thanks for the awesome care and amazing experience! God Bless!
Ryan Deguia
---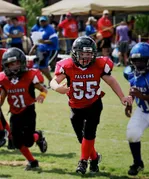 Thank you Dr. Mark for getting me back in the game!! Your treatment on my neck this week allowed me to play in the game on Saturday and I got my frist quarterback sack.
Isaiah Hennessy, Falcons #55
---
I came to Dr Mark after 3 months of the most excruciating daily migraines that weren't going away. My neck and the base of my skull felt like someone was beating my head over and over with a hammer. The pain behind my left eye and both temples was unbearable. No pain medication even sort of helped. I had been seeing a different chiropractor regularly for months, I was also going to acupuncture and getting botox injections for my TMJ and migraines.
This was severely affecting my life and my family's. I really couldn't function or plan ahead at all and was mostly in bed. After doing much research and reading Dr. Mark's testimonials I decided to give him a try. At that point my neck was so messed up and I was such a mess.
The different therapies Dr. Mark offers before the adjustment helped me immediately. Very quickly I started to feel 10 times better. I now feel better than I have in a very long time. Dr. Mark isn't about selling you he is about helping you and wants to do whatever is in your best interest. Dr. Mark is honest and will help you.
Amber L. Silva
---
My friends and I were involved in an auto accident several months ago. The total loss of my vehicle wasn't as bad as the pain that I was in the the day after my accident. I woke up feeling like someone had put a boulder on top of me and set a vice grip around my neck. I needed help but was reluctant to see a chiropractor since having never met one, I didn't know what to expect. A friend referred me to Dr. Mark's clinic in San Marcos.
The staff at Dr. Mark's office is friendly, experienced and well trained. They always made me feel that I was in good hands, no pun intended. Dr. Mark is a kind and knowledgeable man who cares about the well being of his patients. He is a credit to his profession.
It has been a while since my car accident and I feel 100% better today than that day. I honestly don't think that would have been possible if I did not seek chiropractic treatment. I am grateful for Dr. Mark and his staff for everything.
Thanks guys! You are the best!
Benjamin Roath
---
I was referred to Dr Mark after being in a motor vehicle accident. I've been to several chiropractors in the past and by far Dr. Mark's practice is the best. The staff is very professional and friendly. The service they provided help me quickly get back to my regular activities . I recommend anyone in North County that is looking for chiropractic treatment to see Dr. Mark and his staff. You won't regret it.
Eugene Opalec
---
I would like to thank Dr. Mark as well as the rest of his staff at the Cafagna Chiropractic Clinic. Dr. Mark reduced my pain level from a 10+ to 0 in a short period of time.
Sciatica is a term I was not familiar with until I recently. I experienced a lower back injury that was soon followed by an unbearable pain in my left leg that would not go away. I have now experienced a whole new level of pain and discomfort.
Because of Dr. Mark's expertise as well as moral support, I am now pain free and back to work in just a few weeks!
Thanks Again,
Don Rosenkrans
---
Sharp, stabbing lower back pain brought me into Dr. Mark's office on Monday July 29, 2011. It started the Friday before after a significant force pressed down on my lower back while I was laying on my stomach.
After two adjustments and five days, my pain went from an "8-9" down to a "1-2." Turns out I needed a tune-up because my left hip was out about an inch, causing a chain reaction of malalignment.
Thank you, Dr. Mark, for your calm approach of listening, understanding, and diagnosis.
J. Riley
---
About two months ago, I sustained a cervical strain from a car accident. I was referred to Dr. Mark Cafagna's office where they took great care of me. With sessions of massage therapy and adjustments at least three times a week I no longer have any pain in my neck or back. The office staff was very kind and made me feel at home. I would refer this office to any individual looking for a good chiropractor.
Sincerely,
Alexa Corona
---
Hello everybody,
My name is Kyle and I'm glad to borrow a moment out of your busy schedule. You are probably reading this and deciding if going to the chiropractor is for you... we'll I'll give you my experience and hopefully you will give Dr. Mark the chance to fix your problem. I'll start by saying that i was injured at work, I work in Public Service, and after the injury could hardly walk, stand, and perform even normal everyday tasks of life. The problem was essentially my lower back and years of wear and tear on my body, without proper care. In the field that I am in, I rely on my body to function properly to allow me to perform my job day to day, as well as provide excellent service to the people of the community. I was desperate to find something to help. A good friend of mine gave me Dr. Marks address and called in an appointment for me, which I went to the day after my initial injury. He explained to me what chiropractic work is and how it could help me. He is very knowledgeable and informs you in a way that makes you comfortable. My treatment included muscle stimulation, treatment, ice, massage therapy ultrasound and adjustments, all of which was amazing. The staff there is very kind and genuinely care for the people that come for treatment. Being somewhat in the medical field myself i will say that Dr. Mark's Staff are good at what to do, and have an amazing sense of customer service and care. Good patient care is hard to come by these days, you may know what i am talking about... Now for the good stuff... Every single time I left that office I felt better, and continue to make progress every day I received treatment. I am someone who has never been to a chiropractor and has experienced something great and I want to share with everyone who may be just like myself. I urge to to stop in, if you are in pain, or just need an adjustment.... Take care and God bless
Kyle
---
Here is what Kimberly Olas had to say:
In mid April, 2010 my neck was in a bad position and something "slipped." Days later, I got arm and shoulder pain (pain level 8-9). I turned to natural healing by going to a Chiropractor (not Dr. Cafagna). After 2 weeks of treatment and not much relief, I began Acupuncture treatments. After 2 weeks of both Chiro and Acupuncture, I was still at pain level 7-8. Being extremely annoyed by the pain, I resorted to taking pain pills and muscle relaxers hoping this would reduce occasional muscle spasms. After taking the meds just twice, I experienced severe joint pain and tinnitis; I had to discontinue that path. I thought I may have to quit my 8-10 hour/day computer job and who knows what then?
By mid May I began experiencing mild numbness in my right fingers. An MRI diagnosed me with a herniated C6 disc. I had continued the Acupuncture treatments (solely), but then in mid June decided it wasn't helping enough to keep me at my job. This led me to research on the internet, which led me to spinal decompression with Dr. Cafagna. Just prior to beginning the spinal decompression treatments my arm pain level was 7-8. After approx. 2 weeks (2-3 treatments of spinal decompression) the pain level was reduced to 1-3. By the 10th treatment, the pain level for my whole back, arm and shoulder was at ZERO (a tiny bit of occasional numbness came about if I was on the computer too long) Without a doubt, this was the best and the quickest path to healing.
Today, August 1st - thanks to the good Lord with his many provisions and leading me to Dr. Cafagna - I no longer need Acupuncture and feel very good. It's wonderful that I can remain at my job, I have no idea where I would be without the spinal decompression treatments!
THANK YOU DR. CAFAGNA AND PAM!!! MAY THE LORD BLESS YOU AND YOUR FAMILY ABUNDANTLY.
Kimberly Olas
Thank You Kimberly, we were glad to help.
---
Here is what Angelica Sosa had to say:
I had heard of Dr. Mark through a friend of mine. When i got into a horrible auto accident i called him. I was a little nervous about chiropractic because I had a previous bad experience. When i came in Dr. Mark and his staff were great. They made me feel very comfortable and it did not feel like a typical clinic environment, but more friendly and homey. Needless to say the treatment was wonderful and exactly what i needed. I would highly recommend Dr. Mark to anybody that has had an accident or wants to get rid of their pain. Angelica Sosa
Angelica Sosa
---
This is what Melinda Krupcyznski had to say:
I am an avid runner that logged 30 miles per week; however, after the adoption of one very exuberant and untrained dog I ended up extremely out of alignment which caused constant pain in my hips and the development of tendentious in both arms.
I came to Dr. Mark's practice very hesitantly as my past experience with another chiropractor was extremely unsettling. I am so glad that I gave chiropractic another opportunity and am blessed to have come across Dr. Mark's practice! I can't say enough about the quality of service and care that I have received from Dr. Mark's office. I have always been greeted by a warm and caring environment; I was sincerely listened to and educated on my chiropractic treatment. The combination of ultrasound, deep tissue massage, and chiropractic adjustments has been extremely effective! After the completion of my therapy and continuing on with my maintenance program I am now looking forward to successfully completing two half marathons within the month and many more to come.
Thank you Dr. Mark and team for getting me back on track and pain free!
Melinda Krupcyznski
Thanks Melinda, now go win that half marathon!
---
Here is what Nancy White had to say:
A friend of mine saw my frequent posts on facebook about my migraines. She told me that Dr. Mark had helped her with her headaches, so I decided to go in and see him. After about 3 weeks of treatments, my headaches were starting to get less severe and less frequent. I hardly ever get any now after several months of chiropractic adjustments from Dr. Mark along with the "Stim", massage, and ultrasound therapies from Janette and Jessica.
Dr. Mark's wife, Pam, and the whole staff is so friendly and caring. They make you feel valued and welcomed every time you come in. I highly recommend Dr. Mark Cafagna and his wonderful team!
Nancy White
Thank you so much, Nancy, we are always glad to help!
---
Here is what Christian Montoya had to say:
Getting into a car accident is something that nobody wants to go through. I got into a crazy car accident and endured a few injuries to my neck and shoulder. I've never had an accident this bad so I was definitely concerned with getting back to 100%. I was directed to Dr. Mark's office for treatment and it was definitely what I needed. The staff here is very professional and are very knowledgeable in their field. They're also very friendly and treat each patient as their own. Dr. Mark's wife, Pam provided answers to any concerns that I had.
The treatment that they performed on my injuries was exactly what I needed. I cannot say enough good things about Janette, who performed deep tissue treatment on my neck and shoulder. She got me back to 100% in no time. Dr. Mark's adjustments made a huge difference in getting my body back to normal. I had endured a lot of stiffness from the accident and he got my back to where I can run with no pain afterwards.
For anyone that is in need of a chiropractor, I'd definitely recommend Dr. Mark's office. They've been very professional and friendly to make the whole process a comforting experience. Thanks again to Dr. Mark and his staff and I'd definitely be back if God forbid I sustain any injuries in the future.
Christian Montoya
Thanks Christian, I am glad that we could help!
---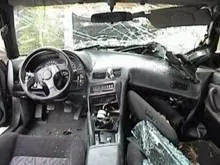 I can't speak highly enough of Dr. Mark Cafagna and his practice. I was involved in a major car accident several years before seeing him. By the time I did, I had tried physical therapy and seen another chiropractor. However, my two resulting disc herniations were so swollen that I couldn't walk and I was losing feeling in my foot. Emotionally and mentally, I was a mess due to a lack of sleep. Dr. Mark's de-compression table and Janette's masterful deep tissue massages essentially gave me my life back. Now, I can exercise again, work at the computer again for hours and walk away without pain, and SLEEP! I could go on and on about the entire staff but the bottom line is you have to try it for yourself to believe it. I waited a long time. I wouldn't advise it. Thank you for helping me feel normal again Dr. Mark!
Sincerely,
Geoffrey K. Henry
---
This is what Su Coy, a recent Auto Accident Patient had to say:
After being involved in an auto accident, my attorney referred me to Dr. Mark Cafagna. My neck, back and knee were injured as a result of the accident and causing me severe pain and discomfort. From the moment i set foot in Dr. Mark's office i was treated with respect, smiles, and a positive attitude that radiated throughtout the entire office. What a great start to my recovery!
Dr. Mark is an extremely capable, knowledgeable and informative doctor. Dr. Mark's wife, Pam and the entire staff provide professional care touched with a very comforting feel of home. I hold dear to my heart these angels here on earth for providing exceptional treatment and specific care in my time of need. Thank You!!! Su Coy
Wow! Thank you Su for such a great compliment, I'm glad we could help!
---
This is what Rosina Duenas had to say:
Before seeing dr. mark i suffered from low back and neck pain due to multiple disc bulges. dr. mark recommended that i start spinal decompression treatment. i am pleased to say that after a series of treatments i am pain free in both my lower back and neck. the treatment was amazing and painless. the table along with the other therapies and adjustments have allowed me to live a pain free and happier life. i recommend dr. mark and his treatment to anybody suffering from a disc bulge/herniation. Thanks to dr. mark i have my life back!
Thank you Rosina we were glad to help.
---
This is what LaVonne Hogue had to say:
When i decided to go to Dr. Mark it was with fear and trembling as my previous experience with a Chiropractor was not very good. I soon was put at ease with what was explained to me and the techniques that were used. The Spinal Decompression treatment made a big difference in relieving my pain. I am so pleased i didn't have to go on pain pills for the rest of my life. Thanks Dr. Mark, Pam and Vanessa for always caring for me in such a pleasant and professional manner.
LaVonne Hogue
---
Here is what Tannika Engelhard had to say:
Hi Dr. Mark, Pam, & Staff:
I wanted to thank you all for the excellent care you provided mein the days leading up to my backpacking trip to the Olympic National Park.The trip was great and my back and sciatic nerve held up great during my46-mile trek spanning 6 days over lots of varied terrain. My legs are a little sore from fatigue, but my back feels great.
Thanks!, Tannika
Wow! That's Great Tannika. We were glad to Help!!
---
Here is what Christine Holbrook had to say:
To Whom It May Concern:
After months of extreme lower back pain with numbness andtingling in both feet I went for an MRI. The results were that I have 3 bulgingdiscs with a tear in one of the discs. I had already had 3 months of PT that included some ultra sound and electrical stimulation. These treatments offered some quick relief but I still had to ice my back and rest every 3o minutes. The numbness in my left foot kept getting worse and when my bladder started to 'tingle' I knew that I had to do somethingdrastic. That's when I found Dr. Mark!
He explained that I needed to alleviate pressure on those discsthrough decompression-I was VERY nervous about this treatment (I had never been to a Chiropractor but with the whole office offering their support Idid the treatment. After several sessions I eventually let go of the'panic button'. Along with ultra sound, electrical stimulationVanessa's deep tissue massage and Dr Mark's adjustments my back pain slowlyimproved every day.
I would highly recommend Dr. Mark and his entirestaff.
Sincerely,
Christine Holbrook
Thank you, Christine, for letting us help!
---
Here is what Abby Rollo had to say:
Dr. Mark,
A few years back I began experiencing sporadic episodes of severe lower back pain from an old snowboarding injury. In the last year or so, the pain became more and more frequent until it was an everyday ailment that I had learned to live with. Several friends and acquaintances recommended that I go see Dr. Mark. At this point I had forgotten what it was like to live normally without the pain. Dr. Mark sat me down and worked out a treatment plan that not only healed me physically, but also suited my budget financially. It took a few visits before we figured out I needed decompression treatments, but we did due to Dr. Mark's attentiveness, tracking my progress at every visit and making sure I was getting the best care possible. I felt very comfortable with the entire staff and the care they gave me. It's clear that all they want is to get you well. They really make you feel like a family member rather than a patient. Just as he was recommended to me, I will definitely recommend his care to anyone who is in need.
Thank you, Dr. Mark (and family), for being a testimony to Christ, so that I can give this testimonial of you. God Bless.
Abby Rollo
Thank you so much, Abby, for your kind words!
---
Here is what Michael Dumbique had to say:
I am so grateful that I went to Dr. Mark for my back problems. I had suffered with mid and lower back pain for some time. The pain was getting worse and was affecting my life everyday. On a referral from my father, I decided to go to Dr. Mark. After only a few treatments I started getting better and now I feel great and the pain is gone! Dr. Mark also fit me for a pair of orthotics due to my flat feet and explained that this was part of the cause of my problem. Thanks to Dr. Mark i no longer have any pain and i can enjoy my life again.
Michael Dumbrique
Thanks Michael for the kind words we were glad to help!
---
Dr. Mark Cafagna,
I wanted to take this opportunity to thank you for your efforts and treatment of my lower back pain. The spinal decompression therapy and adjustments worked so well that I can honestly say that I feel better and stronger than I have in a long time. Your personalized approach to treating me vs. the "one size fits all" that I encountered elsewhere was greatly appreciated.
Thank you again.
Peter S.
Thank you, Peter, for letting me help!
---
Due to severe low back pain and constant sciatica, Orthopedic Surgeons wanted to do surgery on my back whereby rods would be placed in my spine. I had already had largely unsuccessful surgery on my neck where 2 discs were replaced and a titanium plate placed in my neck. I did not want another surgery. I was unable to walk and crying everyday, trying narcotic strength medications as well as epidural shots. But unfortunately nothing was working. About this same time I found Dr. Mark. He told me of a new treatment that could help without surgery. I was eager to try anything, having been through so much and with little to no help.
As of this writing I have forgotten I was ever in pain. The spinal decompression treatment has changed my life!
I was afraid that the treatment was going to be painful. But it was not: It was very comfortable and painless. I no longer need surgery on my lower back and Dr. Mark has even been able to help my surgically fused neck!
I have referred Dr. Mark to both family and friends due to his ability to help and his professional and courteous staff.
Thank you, Dr. Mark.
Mary Rasmussen
Thank you, Mary. We are so proud of you and so happy that you got your life back.
---
I am very grateful to Dr. Mark Cafagna and highly recommend him to anyone suffering with severe back pain. I have suffered for years from lower back and leg pain that seemed unresponsive to medication or other remedies. The constant pain was impacting my life and my work. Using the decompression table and other chiropractic and holistic therapies, Dr. Mark has helped my pain to go from extreme to barely noticable. I praise God for Dr. Mark and his entire office staff. It is wonderful it is to be out of extreme pain!
Sincerely,
Marilee Dunker
World Vision Child Advocate | Advocacy and Communications
---
Dr. Mark,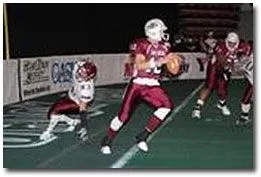 I would like to thank you for being such a wonderful man of God. You and your wife Pam have been a wonderful example to me and my walk with the Lord. I can't believe that in just twelve visits I feel as great as I do right now. My life has been so much more enjoyable when I can walk and even just sit without being in pain. I know that you will not take credit for this but my performance on the field has dramatically positively increased since you have started treating my back and hip. I no longer go into a week of practice in large amounts of pain and it has allowed me to train at a much higher level. The thoroughness of my preparation has increased so much that the game has literally began to slow down. Without your help I would have never been able to practice and play at the level that I am now used to competing at! Thank you so much for everything that you have done for me. God is truly using you and your business to reach this community!
San Diego Shockwave Quarterback
Matt Pound
---
Dr. Mark provides exceptional service and masterful adjustments. My back, hips, knees and neck are now experiencing relief, realignment and rejuvenation due to effective treatments and consistent care. I highly recommend Dr. Mark because of his thoroughness, professional manner and attention to helping me get my health goals.
Denise Budden-Potts, PhD
Positive Outcomes Coaching,NLP Coach and Trainer,Specializing in the utilization of conscious & unconscious mind resources1634 Bay Hill Drive,San Marcos, Ca. 92069.(O) 760-798-9076
email: [email protected]
---
I wanted to express my appreciation and gratitude to you for getting me 'back to normal" with my neck but more importantly with my right upper leg. I had been to my general doctor 4 times over the past year with severe pain in my upper right thigh, leg where it meets my waist and right back side. My doctor had diagnosed me with acute rheumatism and told me to take Aleve which sometimes helped but most times did not. After you started adjust my right leg, I have had more movement and less pain than I have had for a year and I am truly thankful. I was very dubious about coming to a Chiropractor for all the social reasons. You have completely changed my mind with the work you have done on me. Your knowledge of the muscles and bones of the human body is excellent and the care and attention you have given me is truly appreciated.
As a Professor of Leadership and Organizational Behavior, I applaud your work.
David Bennett
Professor, College of Business
California State University San Marcos
---
Mr. Mark Thomley has been a patient of Dr. Mark for over the past year. Mr. Thomley has a standing appointment every saturday morning.
Mr. Thomley had this to say, "Dr. Mark Cafagna has a genuine concern for his patients. Dr. Mark's Chiropractic service gives you more therapy for the money and his rates are very reasonable. I am a very satisfied client."
Thank You Mr. Thomley for your kind words, we appreciate you too!!!
---
Mrs. LouAnne Kelly, had this to say, "One day during my walk I noticed there was a Chiropractor near my home. It was especially nice to find out that he was a Christian. Dr. Mark has a great plan for cash patients and since I was suffering from neck and upper back pain I decided to try his treatment. So now I'm hooked on the benefits of his great treatment. I have since sent in my husband and my two sons as well. Jesus has gifted this man to know exactly what we need. So try him, what have you got to lose? A whole lot of pain!! Go be blessed!!"
Thank you LouAnne, God Bless You
---
Mr. Drew Byerly, a golfer and athlete for the past 25 years has this to say; "Earlier this year, consistent, sometimes intense lower back pain limited my participation in athletics as well as many other day to day activities. Dr. Mark has improved my quality of life with his chiropractic treatment. He is knowledgeable, personable, and caring. Today I am able to compete again in the manor in which I am accustomed."
Wow!! That's great Drew!! Hit'em long and straight!!
---
Mr. Mario Hernandez, a construction worker, had this to say; "I had a work related accident in a water truck that flipped over. I hurt my neck and back very bad. I hit my head on the ground through the window and was knocked unconscious. I was taken to UCLA Medical Center where I was examined and released.
I had terrible pain and stiffness in my neck and upper back and I could not work. After a short time I was released to go back to work and I was released from treatment. But I was still in pain and working full duty. One day I found a flyer on my car and it was for Dr. Mark's office.
At first I did not respond, but then I realized that this was an answer to prayer. I called and made an appointment. Dr. Mark examined me and told me of my rights and that I was severely injured. He was able to get me on disability and he has helped me very much.
I would recommend Dr. Mark to anybody that has been injured and needs information about their injury. I received complete treatment including therapy and exercise. Dr. Mark is a good person and he is someone you can trust. I am so thankful that I came to Dr. Mark's office, he changed my life. God Bless You Dr. Mark."
God Bless You Mario, and thank you for the kind words.
---
Mr. Pat Curtis had this to say, "I quit chiropractic after encountering 5 incompetent practitioners in a row. A year later in extreme pain, I found Dr. Mark and he literally saved my life. Don't give up on chiropractic, instead come to a real chiropractor. Come to Dr. Mark. "
WOW!! Those are strong words and we are thankful to have been able to help. Thank You Pat and God Bless You!!!
---
Mr. Greg Fathman first came to Dr. Mark's office in December 2004. He was having severe lower back that was running down his leg to his foot.
He states " I was in constant pain and discomfort. I had been to my medical doctor who told me there was nothing he could do that would fix the problem. He gave me some pain medication and told me I would have to live with it.
After 4-5 weeks with Dr. Mark my pain subsided to the point I hardly knew it was there. It felt so good I was able to start exercising again without pain. I would recommend Dr. Mark to anyone wanting to live without this type of pain in their lives. Dr. Mark has been a God send."
Thanks Greg, we appreciate you as well as your kind words.
---
Carol Baker, who suffers from fibromyalgia, had this to say, "When I came to see Dr. Mark, I was in a lot of low back pain due to fibromyalgia. My back was in a constant spasm. After about 3 weeks I started to notice an improvement. At about the 4th week the spasms were gone. Thanks to Dr. Mark, I won't be needing back surgery!"
Wow!! That is great news! Thank you Carol, we were glad to help!
---
Denise Garner, who was involved in an auto related accident had this to say: "After I was involved in an auto accident I sought the care of Dr. Mark. I was examined and given appointments for adjustments and physical therapy.
I can now say that I am feeling better than I did when I started and Dr. Mark has done a great job of fixing my neck and back. I would recommend Dr. Mark to anybody who has been in an accident and wants not only his good care, but also he made me feel welcomed every time I came into the office. I am a happy and grateful patient."
Thank you Denise, we are grateful for you too!!
---
Yollette Cochrane had this to say: I hurt my neck five years ago doing absolutely nothing! The pain radiated down my shoulder and sometimes into my fingers. It was not severe, but it was extremely irritating. I was very uncomfortable at night when trying to sleep and i was often awakened. I didn't seek treatment mainly due to lack of insurance and also because the pain was not severe.
My mother referred me to Dr. Mark because she really likes him, his work ethic, the office atmosphere and the fact that he will work with you financially. Since i have been getting regular adjustments and treatments my neck has improved and the pain is completely gone in my shoulders.
I recently tried the NEW SPINAL DECOMPRESSION TABLE. My sciatic nerve was keeping me awake and so i tried the treatment. The same night as my first treatment i was able to lie on my back without any pain. I am so glad that Dr. Mark has affordable maintenance programs that I can afford and that his treatment really works. Thank You Dr. Mark
No! Thank You Yollette, We appreciate you!!
---
Ramon Aguilar had this to say: I am a new horse rider, well not real new but I hadn't rode a horse since I was a child and that is like twenty years, and I love horses and always wanted to buy one and finally my dream came true and I bought a hose, but she is not ready yet and she is nerves, so one day that I was riding it, she got spooky from something and then she started jumping and yes I ended on the ground and the worst part is that I landed on a rock, and I totally screw up my back I couldn't even move, I was worried because I though that I had a broken rib, I couldn't even rise my arms , so I went to Dr. cafagna office and he did an excellent job, at the first visit I could move my arms better, with his therapy and alignment in three visits I felt much better I just had sore back because the damage I had was real bad, his method is wonderful, when I have the opportunity I recommend DR. MARK CAFAGNA. thank you very much for your help Dr. Cafagna.
No! Thank You Ramon, We appreciate you!!
---
Marco Ruiz had this to say: Dr. Mark (Cafagna), D.C., and I "crashed" into each others lives on a hot, summer day in August 2004. During my attempt to dull my excruciating back pain with a Stone Brewery IPA draft (or six) purchased at the San Marcos Street Fair 2004, Dr. Mark and his lovely wife, Pam, persuaded me to enter his world of the Dr. Mark Chiropractic display booth for a brief massage and adjustment of my mid-thoracic region. This of course helped and quickly eliminated my immediate suffering. At that point, I became interested, but was not completely sold on Dr. Mark.
Unfortunately, in the past, I have had poor experiences with people who have portrayed themselves as doctors of chiropractic, and I was obviously reluctant to continue a doctor-patient relationship with another "fraudster" who would somehow attempt to defraud me out of my health insurance. Nonetheless, in November 2004, I fell extremely ill with the worst lower back spasm I had ever experienced, and I felt compelled to see Dr. Mark, for a long week of much needed physical therapy and rigorous adjustments. It slowly dawned on me, I saw the light; Dr. Mark was not trying to exploit my painful condition through any kind of insurance scam, he was genuinely trying to facilitate the healing process of my life long disease.Unfortunately, in the past, I have had poor experiences with people who have portrayed themselves as doctors of chiropractic, and I was obviously reluctant to continue a doctor-patient relationship with another "fraudster" who would somehow attempt to defraud me out of my health insurance. Nonetheless, in November 2004, I fell extremely ill with the worst lower back spasm I had ever experienced, and I felt compelled to see Dr. Mark, for a long week of much needed physical therapy and rigorous adjustments. It slowly dawned on me, I saw the light; Dr. Mark was not trying to exploit my painful condition through any kind of insurance scam, he was genuinely trying to facilitate the healing process of my life long disease.
From that point on, through 2005, and now up to the spring of 2006, I have faithfully dedicated myself to the development of my doctor-patient relationship with Dr. Mark as my partner in the healing of my body, mind and spirit. I'm feeling better Dr. Mark! Thank-you for being my personal "healer."
No! Thank You Marco, We appreciate you!!
---
Dorothy Hurst had this to say: Dr. Mark is a wonderful Christian chiropractor. He is definitely blessed with Gods "Healing Hands"! I had been to previous Doctors and they said that nothing was wrong with my hip replacement after I had taken a fall. Dr. Mark requested new X-Rays to determine if something had been overlooked. Sure enough when my orthopedists reevaluated the new X-Rays after Dr. Mark suggested that something did not appear right, I was then able to get an MRI, which showed that my prosthetic hip was fractured. I was finally able to get the surgery I needed. Ten months of agony and frustration was over as a result of the help Dr. Mark provided. After that I returned to Dr. Mark who helped me with the rehab. Thanks to Dr. Mark I am now recovered. Dr. Mark provides great care with love and kindness.
Thank you Dorothy, I will never forget your first day when you were so frustrated that you actually got mad at me when I was just trying to get information to help. That was a long time ago and I am so thankful that we were able to find your problem and get you the care you needed. Thank you so much for your kind your words and just know that we love you!
Pilar Sanchez had this to say: I have suffered from scoliosis since the age of 12. I have seen physical therapists and orthopedic doctors for the last nine years, but my pain always seemed to come back at the end of the day. It wasn't until I started seeing Dr. Mark that my pain was finally gone! It was so nice to work with someone who had such sincerity for his patients.
Thank You Pilar, not only are you beautiful, but smart!!